As of Late...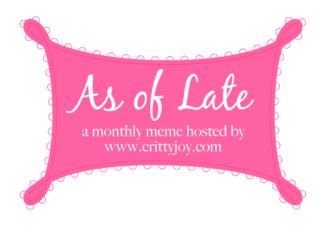 I'm excited to finally have the chance to participate in this meme hosted by my sweet friend CrittyJoy! Check out her blog and link up with us.
You know it's funny... I've seen this meme before and I've always enjoyed reading the posts, but I never considered that I had anything "post worthy." At first glance, the past month didn't seem very eventful either, but when I gave it some more thought I realized there has been quite a bit going on so...
 As of Late...
I am rediscovering my passionate love of writing.
I am investing myself in some new friendships that have become so very precious to me
I am a little quieter and introverted than normal... self reflection I suppose
I am learning how to be kinder and gentler to myself
I am daring to do some things I've never done before and I'm enjoying the results - who knew???
I am setting goals... real ones... with target dates and everything!
I am relearning how to rest in the moments of life... I like it too!
I have been quietly restless concerning areas in my life that are ripe for change
I guess that's all for now... Happy Summer all!